Phuket 3 days 2 night activities weekend getaway
Day 1
We fly to Phuket on Friday afternoon and reached there without any delay to begin our 3 days 2 night activities weekend getaway. At the airport, we buy sim card for internet cost 200 Baht for 4 days unlimited data usage. Sounds worth for money. We buy only one sim card because we can tethering hotspot among us. No problem. Since i got 2 sim card phone, so everyone can use the internet happily. At the airport we take taxi airport cost us 800 Baht. We checked Uber, unfortunately Uber is more expensive than airport taxi. Of course still have cheaper transportation option either using minibus or take bus but it will take more time.
In the taxi on the way to hotel at Patong, the taxi driver asking either we want to stop at information center and survey the package and activities offer here. Since we no rushing so we agree and spend around 15 minutes before continue to hotel. Unfortunately we didn't take any package offer there.
Once we arrived at hotel and check-in, we take a rest a bit since no activity plan around. The hotel Royal Paradise and Spa is located in the city center. This hotel offer breakfast package and got pool even though we didnt get a change to give a try during our stay
And on evening, we taking a walk to famous Patong beach. Our hotel and the beach is not really far so we just have a slow walk and see around. Along the road, a lot of shop and event happening especially nearby Patong road. We spend around 1 hour there hanging around and enjoying all scenery and people before going back to hotel.
For dinner, we try the famous Kusuma Seafood and its not disappointed. This is recommended restaurant by a lot of tourist especially muslim tourist because of the Halal status. The freshness of seafood, taste and the price is not cut throat like usually tourist restaurant. First of all, its not like a fancy restaurant, but only stall at the roadside. In front of building with table and chair. Once our tummy full, we have a walk around and buy island hopping package. 1000 Baht for 3 island. Compare to Krabi, personally i think most of thing here slightly expensive. Maybe here tourist is more than Krabi.
Day 2
Early morning, after having breakfast at hotel, van is coming to pickup around 8am. Journey from hotel to jetty boat is really far, around 1 hour. That time we felt we wrongly buy package, our fault didn't ask pickup jetty.Once we arrived at the jetty, we waiting few more group to join the same boat and during that time we are look around at the jetty. Note: if you been asked to buy snorkeling shoe or protection shoe, think again, they just want your money. And the way this operator scared us with feet wound really annoying. Lots of people fell of the trap and buy, including us.
After everything ready we get our boat- go to island, with few island stop for snorkeling, stop and see until we stop the most significant island. Of course Phi Phi island. the water, the island is wonderful here. Worth to come.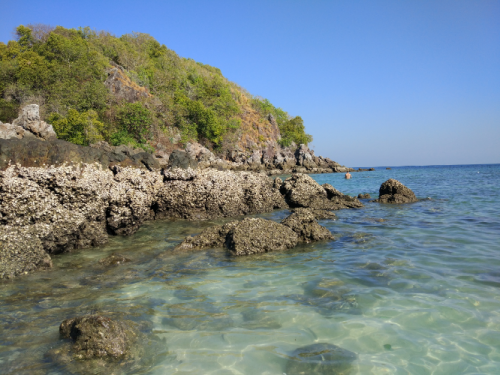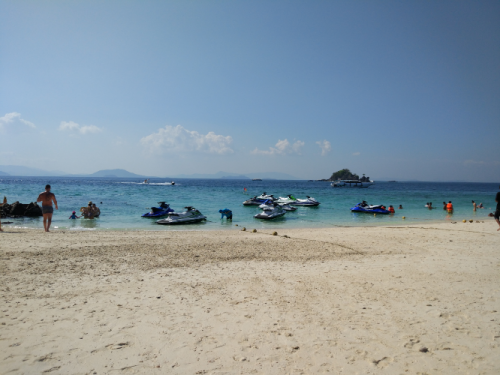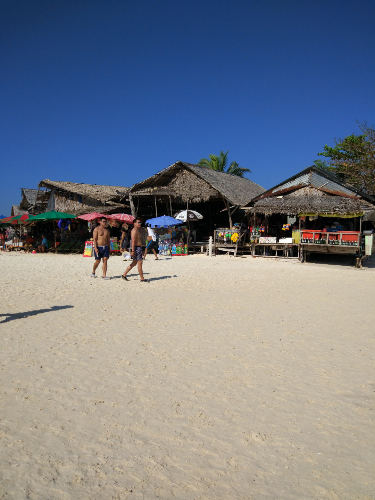 Well, this island is really unique. Like magic, the whole island is magnificent, the water, the sand, and everything. We having lunch buffet at this island and it inclusive with the ticket.
Spent almost 1 1/2 hour here, then we straight to the land and when we reach it almost dark because its very jammed from jetty to our hotel. Its peaked hours. The van sent us to our hotel and after rest a while we go out for having dinner and after looking around few option, we going back to Kusuma seafood. Once full we straight to hotel and take full rest until morning.Yes it very tired spent whole day in the boat and hopping island.
Day 3
Nothing much activities for last day as my flight are in afternoon, so just having walking around, to buy some souvenir back home. Only do shopping around hotel and Bangla road after breakfast. And after booking taxi, back to hotel to packing and straight to airport to back home. These concluded how we spent at Phuket 3 days 2 night activities weekend getaway.