G2G Garden Animal Park MAEPS Seri Kembangan
G2G Animal Garden located inside MAEPS  Serdang is one of animal park garden (Taman Haiwan ) nearby Seri Kembangan / Serdang / Putrajaya / Cyberjaya area. Entrance fee is RM20 for adult and RM15 for kids above 90cm and free for below it. This fee is for citizens and fee for non citizens slightly higher.
With lot of ample parking space, and restaurant next to it, it's very convenient. Once enter inside, we will meet with bird sanctuary first and lot of parrot species you can touch, feeding and even take pictures with it. Also have peacock but that time i come they just hanging on the tree.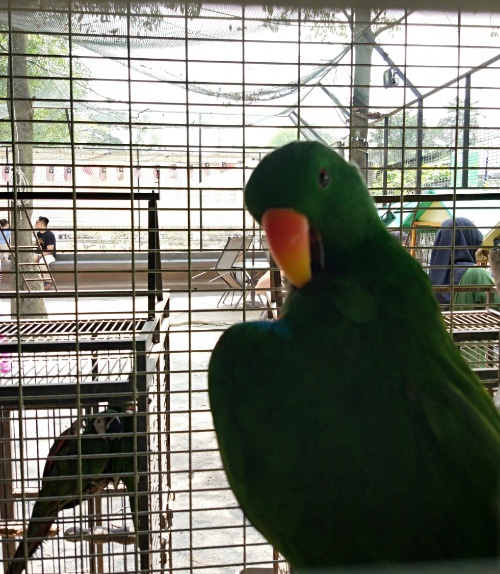 After that, next is cat area and one eye catching me is fennec fox. Never saw this kind of type before in other animal park i ever visited. Amazing and surprisingly beautiful. There also one kind animal looks like Koala, but its not, very small, only one hand palm size.
After that, there also area of rabbit, goat, house of pigeons, house of lizard and snake, deer and even catching small fish with small extra fee. There are lot of different types of species in their own house. To attract and entertain kids, they have Pony riding activities. If not mistaken RM 5 to take 1 pony ride. When getting tired entertain the kids, there are stall selling drink. Don't worry stool and fan are provided if you want to take some rest after chasing exciting kids.
Rare animal species also can be see if we are lucky enough such as meerkat and raccoon. Not to forget ostrich, chicken and few more typical Malaysia animal also can be found here
Are you hungry? Done? Tired? Outside of garden have cafe you can eat and have a drink and rest. Their cafe is pretty big and cozy with wood decoration from table to chair. They also selling homemade pizza and cheese fresh made in case you want to take away. Its  called Goat2Go Farm cafe. So if you staying nearby Putrajaya, Cyberjaya, Seri Kembangan or Serdang do come to this animal park and experience it yourself at this animal park G2G at MAEPS.